Tool Path Generation for Five-Axis Controlled Machining of Free-Form Surface Using Barrel Tool: Control of Contact Point on Cutting Edge
Tomonobu Suzuki and Koichi Morishige
Proceedings of JSME 2020 Conference on Leading Edge Manufacturing / Materials and Processing (LEMP2020), LEMP2020- 8539
(Cincinnati, OH, USA, June 22-26, 2020).
The purpose of this study is to improve the efficiency of free-form surface machining by using 5-axis controlled machine tool and a barrel tool. The barrel tool has cutting edges with a smaller curvature than its tool radius, and can increase pick feed width compared with a conventional ball end mill that has the same tool radius. Therefore, it can improve the machining efficiency. However, the barrel tool has a cost problem such as difficult to be reground. This study considers the cutting points generation that makes the cusp height below the target value. Moreover, the method to improve the tool life by changing the contact point on the cutting edge continuously and uniformly is proposed. The usefulness of developed method is confirmed through machining simulations.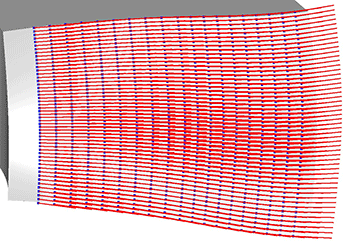 ---

http://www.ims.mce.uec.ac.jp/ Last updated on October 17, 2020 by www-admin@ims.mce.uec.ac.jp